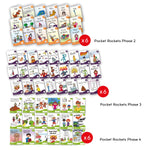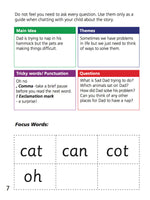 Pocket Rockets Phase 2-4 Bundle
Regular Price

$999.90
Sale Price

$999.90

Regular Price
Unit Price

per
Set of 372 decodable readers (6 x 62 different books) levelled at Phase 2, 3 & 4 of the Letters & Sounds phonics progression.
Introduce an early love of reading with these exciting readers. The books include an instructional page with comprehension questions as well as tricky and focus words.
 + Reading tricky words. Blending, segmenting and reading simple captions.
Each book is 8 pages and measures 210m  x 145mm
| | |
| --- | --- |
| Pocket Rockets Phase 2 |   |
| s, a, t, p | Pat |
| i | Pit Pat |
| n | In |
| m | Min |
| d | Sad Dad |
| g | Dig |
| o | Tom Tin Pot |
| c | Can Dad Nap |
| k | Can Dad Kip |
| ck | Tick Tock Tick Tock |
| e | The Pet Gig |
| u | Gum |
| r | The Rat Pack |
| h | The Hot Dog Hut |
| b | Bad Bot |
| f, ff | The Fun Run |
| l, ll | A Lot of Buns |
| ss | Miss Fusspot |
|   |   |
| Pocket Rockets Phase 3 |   |
| /j/ | The Jet Pack |
| /v/  | Min and the Vet |
| /w/ | A Win at the Well |
| /x/ | The Big Mix Up |
| /y/ | Tag Gets a Leg |
| /z/, zz | Zack |
| /qu/ | Quill |
| /ch/ | Chop! |
| /sh/ | The Wish Shop |
| /th/ | The Redbacks and the Moth |
| /ng/  | The Fang Gang |
| /ai/ | Sad Dad Goes Fishing |
| /ee/ | Vic the Vet's Week |
| /igh/  | Miss Fusspot's Night |
| /oa/  | Goat Soap |
| /oo/ | Duck Poo |
| /oo/ | The Duck and Cat Book |
| /ar/ | A Hard Day for Bad Bot |
| /or/  | The Zork |
| /ur/ | Turnips and Curds |
| /ow/  | The How To Book |
| /oi/  | Pats 'oi' Day |
| /ear/  | FEAR |
| /air/ | The Too Long Hair |
| /ure/ | Get a Zork for Sure |
| /er/ | No Never! |
|   |   |
| Pocket Rockets Phase 4 |   |
| cvcc | Biggest Bag of Junk |
| cvcc | The Best Zork |
| cvcc | Thunk Rock |
| cvcc | Boss of the Tent |
| ccvc | A Big Thrill |
| ccvc | Drat |
| ccvc | Grr! Rat Pack! |
| ccvc | Stan and Spud |
| ccvc | The Problem |
| ccvcc | Fearless Frank |
| ccvcc | Clint and Clem |
| ccvcc | Stomp Swish Grunt |
| ccvcc | The Little Scamp |
| ccvcc | Trent the Trickster |
| cccvcc | Scratch and Scram! |
| cccvcc | Bust that Stress |
| cccvcc | Splish Splosh Splash |
| cccvcc | What Do Bots Do? |
Inside Pages Phase 2:
Inside Pages Phase 3:
Pocket Rockets Phase 3 Evaluation
Inside Pages Phase 4:
Pocket Rockets Phase 4 Evaluation
Phonic Progression of books: